Almost every merchant has to pass through this phase where they brainstorm what products to sell in their eCommerce stores. Of course, the goal is to find the most profitable products. But how many merchants actually succeed?
Are you in the same phase right now? Don't worry! Here, I am going to reveal some most popular products to sell online.
But when creating an online store, you need a product line or a niche rather than products from different categories. If you haven't selected a niche yet, this post will help you choose the right niche for your Shopify store based on the products.
Some of the product ideas listed below will directly point out the exact niche for your Shopify store. Also, you can simply find the most suitable product, and go with the niche that the selected product belongs to.
Now, let's quickly check out the best products to sell on Shopify.
10 Best-Selling products for your Shopify Store
The products listed here are from various niches so you have many options to select from. So you can build a new niche store or add a new product line to your existing eCommerce store.
1. Air Fryer
Can't believe this can be the first product in the best products list? I was also surprised when I found this product with the highest demand compared to the rest products in the list below. Let's know about the product first, then we'll see how it got the top position in the list.
This is how the product looks!
An air fryer is a small oven that helps you prepare food in many ways: bake, grill, roast, and fry. It uses a fan to help move hot air around your food so that it cooks more evenly and quickly than the conventional oven.
This product is best for Shopify stores with a home improvement or kitchen appliances niche.
People nowadays are moving towards healthy and low-calorie diets. Air fryers can quickly prepare french fries, chicken wings, and much more – all hot and crispy, just the way people like it! This allows customers to reduce calories while maintaining taste.
Market Size
The worldwide "air fryer" industry will grow by $351 million in 2026, driven by new-age consumers' increased emphasis on healthy eating.
This increase spike has been confirmed by Google Trends, especially during the past year.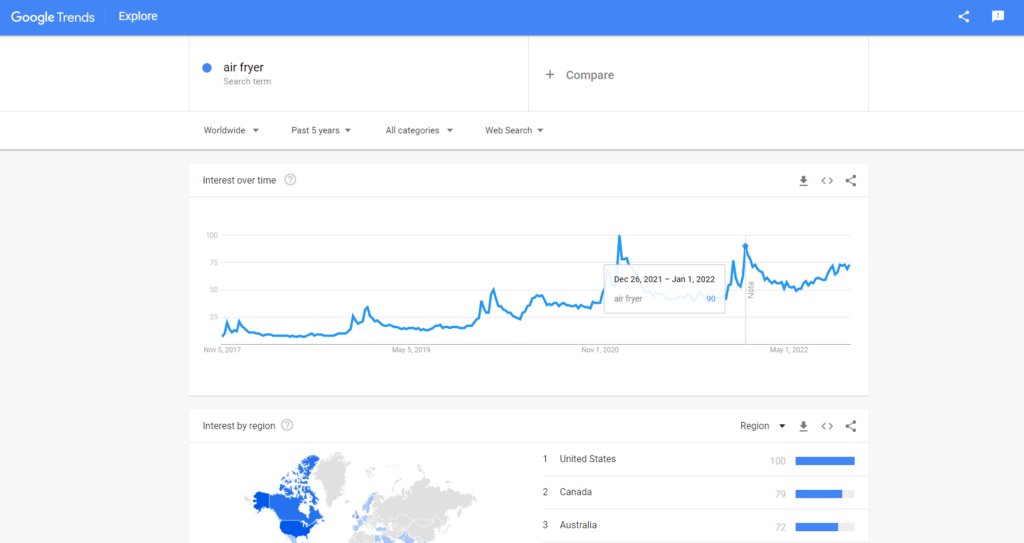 As per Google trends, people are searching for this product the most between December and January.
Potential Customers
As this product is compact and helps prepare tasty and healthy food, all food lovers or food makers would love to have it in their kitchen.
2. Jewelry
Jewelry, whether it's a pricey diamond ring or a simple bracelet, can instantly boost a person's self-esteem and sense of style. Since ancient times, people have adorned themselves with jewelry. It is one of the oldest and most popular types of self-expression.
Jewelry is the best option if you are looking for a niche rather than a product to sell on your Shopify store.
Market Size
By 2026, the jewelry market is projected to have grown from its current value of over $230 billion (in 2020) to around $307 billion. From this, the global online jewelry market is set to grow by $27.19 billion.
You may have noticed that the jewelry market growth is higher than the air fryer, still, it's on second in this best products list. The reason is shown below:
The jewelry trend is stable for the last 5 years (that is safe for your online business), but the air fryer trend is growing every year (that is more profitable for your online business). Again jewelry belongs to luxury whereas the air fryer is indirectly associated with health. So there is more scope for growth as well as profit if you go with the air fryer product.
That's why I kept the air fryer at the top of the list.
Potential Customers
Who purchases jewelry the most?? I think you know the answer. Of course "women"!!
But it would be better if we consider the target audience by the product category. For example, if it's a necklace, then the target audience would be "women" or "girls", if it's a bracelet, both men and women can be the target audience.
It solely depends on whom the jewelry is made for. But don't forget it's not always the women who buy jewelry. Men can also buy jewelry to gift to their loved ones. So, you have to think about all the aspects before targeting your audience for the jewelry business.
3. T-shirts
So, another most common eCommerce niche is "T-shirts".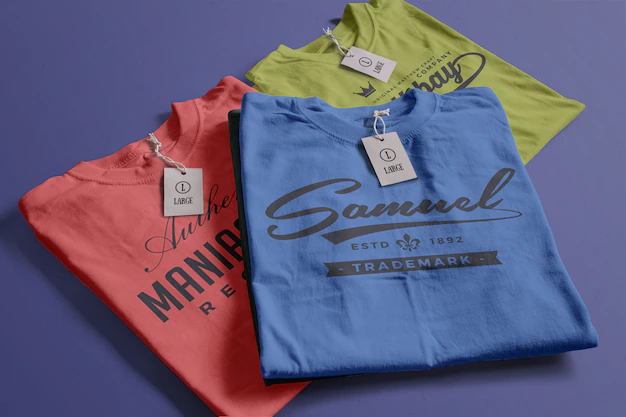 T-shirts aren't simply a piece of casual attire; they're also apparel that expresses our personalities, passions, and identities. Demand for t-shirts is increasing globally after the pandemic because of lockdown restrictions and the growing work-from-home ethos.
A fresh t-shirt business can be started quickly and affordably. You will undoubtedly have competition thanks to the popularity of t-shirt businesses. However, you may achieve success by creating an online t-shirt store for a specific audience.
Market Size
The global t-shirt market is expanding rapidly and is predicted to increase at a CAGR of 6.0% from 2019 to 2027, starting from $206.12 billion in 2018.
Personalized t-shirts with particular logos or messages are more favored by individuals these days. Custom T-shirt printing is a common practice used by companies all over the world to promote their logos and brands.
Potential Customers
A person of any age can wear T-shirts. So, based on the T-shirt types you can target your audience and you don't require rigorous research for that.
4. Aloe Vera Products
The healing and restorative powers of aloe vera are not hidden. In the food, cosmetics, and pharmaceutical industries, as well as other sectors, aloe vera is also widely used. Additionally, it has medical uses that include preventing skin disorders, weight loss, treating cardiovascular diseases, and many more.
The growing people's awareness and interest in aloe vera products can be a profitable opportunity for your eCommerce business. If you already have an online beauty or skin care store, you can add a product line to your existing beauty products. Or you can create a brand new niche store with various aloe vera products.
Market Size
By 2028, the aloe vera market is expected to be worth $1,055.47 million. I know this data is not enough as aloe vera is consumed by different industries. Don't worry, I have added a better chart for you below.
See the below chart to better understand the market growth of each industry that offers aloe vera products.
This will help you to determine which industry to move into. I can see similar growth in each industry but you are the best to decide. But also consider google trends to check the popularity of the niche you select for your Shopify store.
Potential Customers
Targeting your audience is simple here. Every 2nd or 3rd person in the world is suffering from skin issues, hair problems, or other diseases that can be cured using aloe vera products. So, you can easily find your potential customers based on the aloe vera product line you would sell.
5. Phone Cases
Thousands of mobile phones are brought daily so that the phone covers. This opens an opportunity for you to grab a piece of expanding market.
Just like T-shirts, you can start selling phone covers, even customized phone covers. Deciding on the types of phone cases you want to sell is as important as choosing the types of phone models you would support.
This may give you a chance to explore various phone model-based niches. Also, you can predict demand for cases for upcoming phones or identify any smartphone models that are underserved.
Market Size
Between 2020 and 2025, the market for phone cases is expected to increase in value by $11.74 billion. Research shows there was 20% growth in 2020 and google trends also confirm the stability of the phone case market.
Nowadays, many companies provide individual phones to their employees with numbers to keep their work data separate and secure. An increase in the number of phones a person has will never let the demand trend go down even if the world population decreases.
Potential Customers
The age limit of people using mobile phones is decreasing day by day. Just research the popularity of the smartphone's model among people based on their age limit. That's it!
6. Green Tea
Do you like green tea? I love it.
Well, that's not the only reason for adding "Green tea" to the best products list.
Regular green tea consumption strengthens the immune system, assists in keeping weight within desired ranges, lessens physical stress, and controls skin redness. In the upcoming years, it is predicted that these factors will support the market's overall growth.
Green tea is sold in various product categories, including green tea bags, iced green tea, and green tea instant mixes. Aloe vera, lemon, vanilla, cinnamon, wild berries, and jasmine are just a few of the flavors that are available.
If you're into beverages, you can consider the green tea products to sell on the Shopify store.
Market Size
The market size for green tea was $13.35 billion in 2020 and is expected to increase to $23.77 billion by 2028.
The green tea market is segmented into five categories based on the type of product: green tea bags, green tea instant mixes, iced green tea, loose leaf, and others. During the forecast period, the loose leaf market is expected to expand at the highest Compound Annual Growth Rate (CAGR).
See the chart below!
The green tea is both safe and profitable product line for your eCommerce business. Let's confirm it with the past demand trend.
Potential Customers
Instead of sugar-filled fruit juices, soft drinks, and occasionally even coffee, consumers today much prefer healthier substitutes. The preference for healthier options is growing among urban consumers. Fitness freaks are the best people you should target.
7. Multivitamins
Multivitamins are dietary supplements that contain vitamins and other nutrients. This term doesn't need an introduction but still I added a line to describe my next product idea.
The healthcare sector has the highest revenue share, and this will continue in the future too. Yes, I agree that the sales of vitamin supplements and their revenue were higher through offline distribution channels in the past.
But research says that the online sales of these products will increase significantly in the upcoming years due to busy lifestyles, ease of shopping, availability of product reviews, and all appropriate information.
So, consider selling these products if you already have an online healthcare store.
Market Size
In 2021, the market for multivitamins was valued at $31.39 billion, and by 2028, it is expected to reach $48.78 billion. Surprised?? Check out the demand on the google trends given below.
Potential Customers
Multivitamins are mostly consumed by adult men, women, and elderly citizens. So, you can target people with the age starting from 18 years.
8. Shapewear
The concept of perfection is being changed with changing lifestyles. When it comes to body, we have a new definition of self-love and comfort in one's own shape and size.
Shapewear, also known as compression wear, is a type of tightly-fitting apparel specifically designed to maintain proper body alignment.
Mostly used by women, shareware is a trending product to sell on Shopify. It would be the best product line for you if you already have a fitness or fashion store.
Market Size
By 2028, the size of the global shapewear market is projected to be $3.7 billion.
In 2020, the female market segment had total revenues for 94.0% of total revenue and is predicted to grow at a CAGR of 7.9% during the forecast period. The google trends shows massive growth in the search volume of "shapeware" and we can say it will grow more in the upcoming years.
Potential Customers
Sports people, fitness trainers, and people who work out regularly in the gym are the best audience to target.
9. Hair Wigs
The popularity of wigs is being influenced by the rise in hair loss disorders brought on by stress, hereditary conditions, and fatal diseases like cancer. These conditions cause hair loss and baldness. Hair wigs and extensions support people in developing both their personality and appearance.
Nowadays, hair wigs or extensions are not only the means to cope with baldness. But, they are mostly used to get rid of boring hairstyles.
So, how about opening a niche store that offers a variety of hair wigs and extensions to support and grow with the new and changing fashion trends in the industry?
Market Size
From 2021 to 2026, it is predicted that the market share for hair wigs and extensions will rise by $5.26 billion, with a CAGR of 9.82%.
Currently, women are more likely than men to accept hair extensions because they use them like any other common fashion accessory. More men from all over the world choose high-quality wigs and toupees as alternatives to surgery or hair transplants thanks to the availability of these products.
That's why you can see the demand trend growing with time.
Potential Customers
The majority of hair wigs and extensions are used in the film industry. People are affected by celebrities, models, and social media influencers who are increasingly wearing hair wigs.
10. Yoga mats
"You should try yoga for concentration!"
"You should join yoga classes to keep your mind away from negativity."
"You should start yoga for internal healing!"
I have heard this many times. You also might have been advised for yoga at least once! It's because yoga is really effective and very popular nowadays due to its unlimited benefits.
So, selling yoga mats can be a wise decision for your eCommerce business. As every good product comes with a challenge, yoga mats come with high competition. To beat the competition, you can research what problems yoga mat users are currently facing and how your products can solve their problems.
For example, yoga mats are mainly produced with thermoplastic elastomers, polyvinyl chloride, polyurethane, and natural rubber. But nowadays, manufacturers are more focused on eco-friendly yoga mats to create a new trend in the market and survive in the competition.
Market Size
By 2026, the market for yoga mats is projected to reach $14.36 billion, expanding at a compound annual growth rate (CAGR) of 6%. Yoga mats and other special tools are in greater demand due to the worldwide growth in the practice of yoga.
Potential Customers
I challenge you: find a single person without stress (who is not already practising yoga). We all know it's hard in today's time. The survey says people between the age of 26 and 60 years practice yoga and 70% of total yoga practitioners are women.
So, you can target your audience based on this and your research data. Now, time for the next product.
Oops! You've just met the last product on the list of best-selling products.
So, here were some of the most profitable items you can sell on Shopify. I have tried to cover most of the common niches but not all. So, some merchants won't find products suitable to their online store category.
It doesn't mean you have to choose from this list only even if you don't find related products for your eCommerce niche. Rather than you should find the best products to sell on Shopify store based on your store category.
Before you choose the products for your online store, be careful with the strategy you implement to find the best-selling products.
Let's see some tips to find the best products to sell on Shopify.
Read More: Shopify Product Page: 7 Best Customization Tips With Examples
How to Find the Best Products for eCommerce?
Finding profitable products may seem tricky but with some smart hacks, you can get some high-demand product ideas for your eCommerce business.
The first piece of advice you may have received from every source is to sell "trending products". I would say the same but with a little twist.
You should always go for the trending products to sell online but never forget to check whether it would be better enough to invest your time, efforts, and money.
Here are the tips to evaluate whether the product would be profitable or not in the future:
Check the Product's Current Market Size & Forecast
The market size of a product refers to how many people are buying it. The size of a market is what determines how big your profit margin is. The higher the profit margin, the better it is for eCommerce businesses.
Actions To do
Go to Google.
Search "[product_name] market size [year]".
Open any link from the given results and check the Market Size of the product.
You can also add the country name in the search queries to see the market size based on your target locations.
With the current year's market size, you will also find the estimated market growth in the upcoming 5-10 years. This will help you figure out if your product idea is profitable or not.
Check the Product Trend
If you want to sell something that has been selling well for a long time, then you should be able to convince people to buy it again. Google Trends is a great tool to check if the product of your interest has been trending for a long time.
It shows how many people were searching for that product or niche in the past and how many times they searched for it in the past.
Actions To do
Analyze the product trend in Google Trends and answer the following questions:
What was the product demand in the last 5 years or more?
Whether the demand graph is towards up or down?
Whether there been a sudden spike in searches in the last past few months?
Whether there is a drop in searches for the product?
If you see an increase in searches, then it might be worth selling that product in your Shopify store. You can also compare different products or niches to choose between different products to sell.
Research the market segments of the product
One way to find out if your product would sell or not is by looking at the market segment where you want to sell it. For example, if you want to sell yoga mats then you should look into what kind of materials are available, what are the distribution channels and where yoga mats are in high demand.
Actions To do
Search "[product_name] market segmentation" on Google.
Open the links on the result page and analyze the market segments of the product.
Check if targeting your audience is easy or hard
How will sell a product when you don't know who could be your potential customers or how to reach out to your audience?
So, here the very first thing to do is identify your potential customers based on the products you want to sell on Shopify store.
This process will help to determine whether targeting your audience is easy or hard. If you think it's hard, then maybe you should consider going after another type of product instead (or another market altogether).
Actions To do
Prepare a demographic specification of the target audience based on your products to sell. You can gather data by searching "potential customers of [product_name]" on Google.
I searched for Yoga mats and see what I found!
You would be lucky if you get all the required information in one search, but don't give up if it needs more effort and time.
Talk to the existing sellers and end users
This will help you understand if the product would be profitable or not in the future. There are many ways that you can do this, but one of them is by asking them what their concerns are with the product and what they think they need to improve.
They can give you an idea of how it works, what they think about it, and what their experience is with that product.
You should also check out what other eCommerce stores have done with similar products and try to figure out if there are any patterns that you can use for your own product.
Actions To do
Ask questions to understand whether your product is worth buying or not.
What is the product's return rate?
What is the average profit margin?
What kind of margins do they need to make?
Do they get any special discounts from suppliers or manufacturers?
Are there any hidden costs that you need to consider when pricing your products?
How many units does this product sell per month?
Is it stable or does it depend on seasonal trends?
How long does it take for inventory to restock?
You can also go through product forums like Product Hunt and Quora. The best way to find out what customers are looking for is by talking to them directly.
Now that, if you don't find the best products to sell on Shopify store in the given list, you know how to find them for your store category.
Hope you found this blog helpful. Please let us know if you have any concerns regarding this topic or any other topics like – How to Create an Effective Shopify About Us Page?